Blog originally published by CHIEF LEARNING OFFICER – MIDDLE EAST on April 18, 2020
Are organisations equipped to become talent incubators? Ask Nishchae Suri President AMEA at EdCast and Joseph Hayes – Director, Learning & Development Planning at Etisalat.
The pace of technological, demographic and socio-economic disruptions is fast transforming industries and business models. It is changing the skills that employers need and shortening the shelf-life of employees' existing skill sets in the process. Research shows that as a result of changing nature of work, 83% of organisations see demand for new skills or new jobs.
Keeping up with this rapid changing world, where the rules of business change very quickly – organisations are struggling to meet the demand for new skills. Organisations are rethinking their overall capability building approach to future proof their survival, sustenance and growth. L&D is now more critical than ever before to any organisation's long-term success.
Today, organisations need to learn more than ever before.
The need for learning systems that are agile, are able to adapt and align with changing business needs in real-time and can support scale is no longer a luxury but a necessity. Organisations need to build strong learning ecosystems that include strong learning cultures aligned with business strategies and goals; if they are to outperform their competition. In order to meet these talent requirements and bridge the skills gap brought about by expected business model disruptions, companies are firming up future workforce strategies. According to the Future of Jobs Survey  by the World Economic Forum, research with companies globally across wide-ranging industries indicates:
Research also indicates, "Companies that report recognizing future workforce planning as a priority are nearly 50% more likely to plan to invest in reskilling than companies that do not."
As a result of the reskilling initiatives, companies are investing in reskilling or upskilling the individual employee at work. According to research by Josh Bersin and LinkedIn, employees who spend time learning at work are more engaged, productive, successful and less stressed than their peers.
Design Learning Experiences for the Modern-Day Learner
Learners today are hungry for knowledge and are time-poor. This comes at a time when individuals are leaving careers for differentiated learning opportunities in terms of exposure and experience driven by the demographic change, courtesy millennials entering the workforce, and L&D is assuming increasing importance.
Learners today don't expect to be in a classroom only to learn something. They want to tap into learning and information when they need it, not based on a published class schedule. This "just in time" learning means that skills are downloadable and can be wheeled out at the necessary time and place for maximum effect.
Employees today are demanding the freedom to consume the knowledge when and where they want and how they want, from a wide range of content resources, tailored to their learning needs, styles, preferences and interests.
The learner as a consumer is now leading L&D.
Today, organisations are being compelled to take a consumer-focused approach. They are making learning available on-demand, listening more attentively to their employees, understanding their needs and creating & curating their corporate learning content that learners find useful, relevant and engaging. A learning organisation is always looking for more efficient and effective ways to improve the capacity and capabilities of its employees.
Organisations are beginning to see the merits in approaching employee experience just like they would with their customers. The employee experience starts by optimising every touchpoint in the employee life cycle, creating an integrated experience that feels holistic throughout every stage – from hiring to offboarding. When the employee experience is good, employees are happy, engaged, and able to get their work done efficiently. That delivers superior bottom line results.
L&D is no longer managing a curriculum, they are managing employee journeys.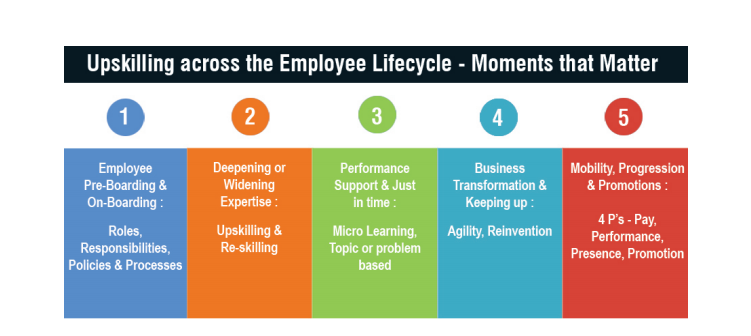 Treat your employees just as you would treat your customers—do things FOR and WITH them rather than TO them.
Leading the Way—Etisalat
Headquartered in Abu Dhabi, UAE, Etisalat Group is one of the world's leading telecom groups in emerging markets across the Middle East, Africa and Asia. The company's long term vision and strategy is to "Drive the Digital Future to empower Societies."
Etisalat is moving the needle in driving the learning agenda for its employees. It is changing the game using the best in class learning technologies and is on a mission to deploy 'Intelligent Learning Solutions' to address today's skill gaps and tomorrow's opportunities.
A sustainable competitive advantage is Etisalat's organisational ability to learn.
Learning Philosophy
The 4th Industrial Revolution is here, and Etisalat has embarked on a mission of "Deploying Intelligent Learning Solution for Today's skill gaps and Tomorrow's opportunities." The learning philosophies are aligned around four pillars – Empower Internal Future Leaders, On-Demand social learning platforms, Mastery through specialist learning academies, and Enhance Collaboration to spur innovation. These guiding principles are the common purpose across all Etisalat learning teams to deliver on the vision.
● Empowerment of internal UAE "Future Leaders": Etisalat has invested in exceptional talent and therefore are committed that future leaders must be developed within the company. Etisalat supports the development of all leaders across levels in the organisation.
● On-demand social learning platforms: The learning team at Etisalat believes that learning should take place anytime, anywhere and on any device. It should also be powered by Artificial Intelligence to bring the "Learner" a curated and personalised learning experience. Etisalat has invested in the best on-demand social learning platforms where the user interface looks similar to a "Learner's" favourite social media app.
● Mastery through specialist learning academies: At Etisalat, the endeavour is to support team members to enable them to become experts in their field by expanding and enhancing functional specialist academies.
● Enhance Collaboration to spur innovation: Together matters. Etisalat is a global leader in bringing people together. Therefore, it is imperative that collaboration is elevated internally to spur better innovation and actions around Etisalat's learning culture.
Learning Experience: A
Journey to Remember
The "Learning Experience" at Etisalat has been redesigned to be a journey that's "Learner Centric". The learning journey spans the entire employee lifecycle.
The Learning Journey in Etisalat's employee lifecycle begins with onboarding. The induction and onboarding processes have been restructured to deliver an all-new digitised experience. Etisalat has codified and personalised the journey for each new joiner. A new joiner embarks on imbibing the "Etisalat Way" and learning mandatory internal content around compliance, product, culture and values to enable them to deliver on its vision.
The learning journey continues as the employee embarks on specialised career pathways offered by Etisalat's Functional Academies. As the employee takes on Managerial and Leadership roles, Etisalat focuses on nurturing talent. Employees are nominated for specialised courses in leadership to support and enable leaders to deliver on their vision and promise.
Subject Matter Experts at Etisalat are provided with a platform to exchange tacit knowledge and drive conversations for improving collaboration and innovation at the workplace.
The learning journey continues for tenured team members at Etisalat as they retire. Etisalat has embraced digital solutions to develop networks for linking people so that tacit and tribal knowledge can be shared.
Etisalat believes that learning is not an event; it is a lifelong journey.
Etisalat's approach to organisational learning is aligned with an agile and digital world. The L&D team are strategic partners to the business. The L&D function has designed capability development initiatives at Etisalat to support the mission and vision of the business.
Learning in the Flow of Work
With an aim to outline a modern approach to learning that will enable Etisalat's employees to meet current and future learning needs, Etisalat has invested in EdCast's learning experience platform (LXP) which is empowering, creating and democratising the learning journey for its employees.
Etisalat's multigenerational workforce has wider access and availability to content for whom learning is at the point of need — "Learning in the Flow of Work". Etisalat has reduced the distance and compressed the time between business needs and learning — to zero. The learners and leaders at Etisalat are learning on multiple devices and open platforms that promote and encourage social learning. Etisalat's new method of learning is aligned with today's agile and digital world.
EdCast's LXP is an AI-powered digital learning platform that is simple, intuitive, and personalised. Etisalat's partnership with Edcast is about more than the delivery of world-class learning technology. The team at EdCast are passionate pioneers of the industry and want to bring about real change for Etisalat. While everyone else is talking about "Digital Transformation", Edcast is delivering on the promise. The blueprint for successful organisational learning has evolved and, thanks to Edcast, so has Etisalat's learning strategy for its multicultural and multigenerational workforce.
The Learning eXperience Platform (LXP) powered by EdCast is enabling Etisalat to set the foundation for a knowledge network and exchange in the organisation, thereby promoting peer-to-peer learning and true collaboration. The collective-intelligence-based re-skilling platform creates an operating model that continuously helps source, crystallise, propagate, and absorb knowledge — a connected ecosystem that will enable the workforce to adapt to a continuously changing world.
Etisalat is cultivating and nurturing the skills necessary for employees to thrive in the age of AI, filling in the talent gap and driving real-world innovation at scale.
In summary, the L&D team at Etisalat has transitioned from being a provider of programs to embracing technology, predicting future learner needs and measuring learning impact. The L&D team at Etisalat is rethinking its role as Development Consultants who deliver learning that propels Etisalat and its learners to higher growth.